Regardless of the size of your project, we'll carry out your project with rigour and high-quality standards.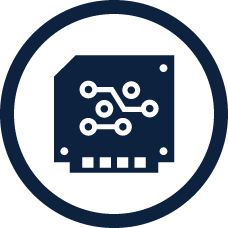 Primma uses Altium Designer in order to design printed circuit boards.
Altium Designer CAD software is an excellent design tool used at Primma to create circuit diagrams and printed circuit boards.
Primma's vast experience in printed circuit boards enables us to deliver any simple or complex project. In addition, we have developed a vast and proven library of electronic components that reduces design time for your printed circuit boards.
Primma can also make changes to old products designed on P-Cad Windows, P-Cad DOS (Master Designer), OrCAD Windows, OrCAD DOS, etc. To do so, the files are imported and modified in Altium Designer.
3D simulation takes on a lot of importance to guarantee a final assembly without surprises. Altium Designer integrates 3D simulation without the need for a third-party mechanical design software, such as SolidWorks. This conveniently shortens the mechanical validation cycle between the electronic board and all mechanical components. We can also export complete electronic cards, including assembled parts, for CAD software, such as SolidWorks.